Become a Member of The Society of Golf Appraisers
It is here…
2023 Edition of the SGA Golf Investor & Lender Survey
Sign Up Today for a Free Copy.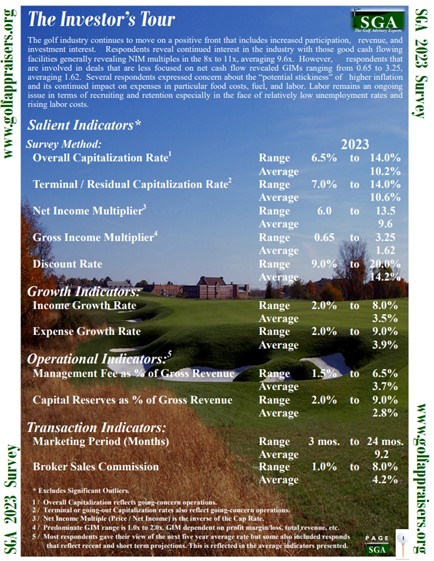 THE SOCIETY OF GOLF APPRAISER
The SGA is recognized as the nation's leading non-profit organization offering golf advisory, consulting and valuation services. SGA members deliver professional independent and objective market intelligence, "real time" industry insight, responsiveness, and sound advice & opinions. SGA membership is synonymous with professionalism and integrity. Through the integration of its members, the SGA offers comprehensive advisory, consulting and valuation related service and analysis unmatched in the industry. The SGA endeavors to provide comprehensive resources, education programs and services to the golf business.
SGA members are qualified practitioners who have earned one of the industry's preeminent professional designations. Utilizing both analytical and quantitative techniques, SGA members take pride in problem solving, providing access to needed resources, and robust industry knowledge.Our membership offers professional services to owners and operators of existing and proposed golf facilities across the globe.
Golf club selection is critical to a complete and successful game. The SGA believes this is also true in the selection of a professional service provider. The SGA members have demonstrated an in-depth competence and experience of the business side of the golf, club & related lifestyle industries. The SGA works closely with many of the industry's leading golf organizations, golf architects, developers, owners and operators, planning firms, financial institutions as well as tourism and golf bodies and governmental organizations.
The Spring meeting of the Society of Golf Appraisers (SGA) was planned around the Club Management Association's (CMAA) annual "World Conference and Club Business Expo" in Nashville, TN. With over 1,600 club managers and support professionals in attendance, the event provided the SGA with an opportunity to network with some of the industry's brightest professionals. The SGA sponsored an informational booth at the Expo.During the event, the SGA released its 10th annual Golf Financing & Investment Survey.
Welcome to the SGA library of articles and industry sources.
Congratulations to Larry Hirsh, SGA, founding SGA member and Past SGA President, who recently published "Golf Courses and Tax Assessments: Just One Right Way?", a very interesting article in the Counselors of Real Estate's Real Estate Issues Journal (Volume 38, Number 2, 2013).
Click here, and download your copy.